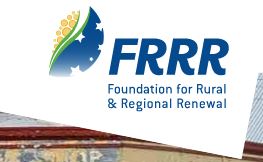 Strengthening Rural Communities – Small & Vital
Rural, regional and remote Australia is home to nine million Australians. Many of those communities are small, and all are vital.
Our donors share our commitment to small rural, regional and remote communities and the premise that local leaders are best placed to know what will make their community stronger.
That is why they collaborate to fund this grants program, which facilitates continued investment and access to funds that can contribute to securing the future prosperity of small communities across Australia.
For smaller communities, regular access to funds can be a challenge, which is why we have created the Strengthening Rural Communities(SRC) program. It has two tiers and the Small and Vital program is now open all year, with applications assessed quarterly.
Next Round Applications Close: Tuesday 25th August.
More information here: https://www.frrr.org.au/SRC_Small_Vital.php?fbclid=IwAR3AQ5D1wEx4lL4FOpQi1bO5qJvKEeEidlxOBgMEZMBcoQn0dcpvuchSVIQ