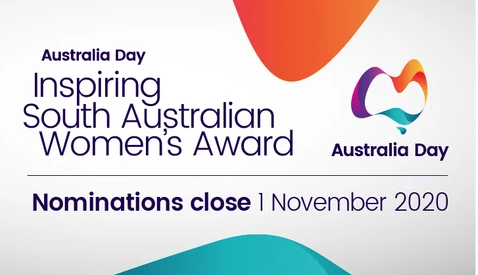 INSPIRING SOUTH AUSTRALIAN WOMEN'S AWARD
Celebrating and recognising the exceptional contribution women make in their communities.
The Inspiring South Australian Women's Award (formerly known as the Women Hold Up Half the Sky award) recognises an outstanding woman who has made a great contribution to the community and is part of the Australia Day awards and honors.
We are looking to hear the stories of women who have made a remarkable contribution to the community during the current year, or over several years.
This Award is provided by the Hon Michelle Lensink MLC, Minister for Human Services with the responsibility for the Status of Women, Office for Women and managed by the Australia Day Council of South Australia.
The winner of this award will be announced at the Australia Day Awards at Government House on Monday 18 January 2020.
For further information visit: https://australiadaysa.com.au/pages/inspiring-south-australian-womens-award
Nominations for 2021 close 1 November 2020