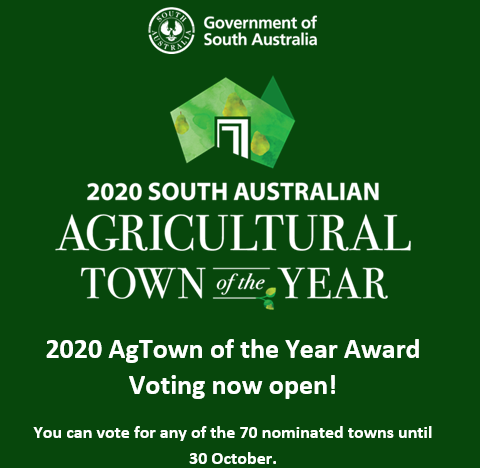 2020 AgTown of the Year Award Voting now open!
The Agricultural Town of the Year Award, proudly presented by the Department of Primary Industries and Regions (PIRSA) and Solstice Media, highlights the vital role that agriculture plays in the regional landscape – being the backbone of most regional communities.
This year the program received 70 town nominations and all South Australian residents are now invited to help select the Top 5 finalists for the 2020 Agricultural Town of the Year Award!
Your vote could help that town be selected as one of the Top 5 finalists, and have the opportunity to be crowned the 2020 Ag Town of the Year.
Support your town by voting for it to be one of the 2020 Agricultural Town of the year finalists. Now in its second year, the award recognises South Australian towns that are excelling in agricultural practices and the flow on effect they have on communities.
How to vote
Review the list of 70 nominated towns at agtown.com.au
Select ONE Agricultural Town from the list that you feel has helped grow primary industries and driven regional development the most, and should be recognised as the 2020 Ag Town of the Year.
Vote before 30 October and you could go in the running to win one of four prizes. Read the terms and conditions to find out more.